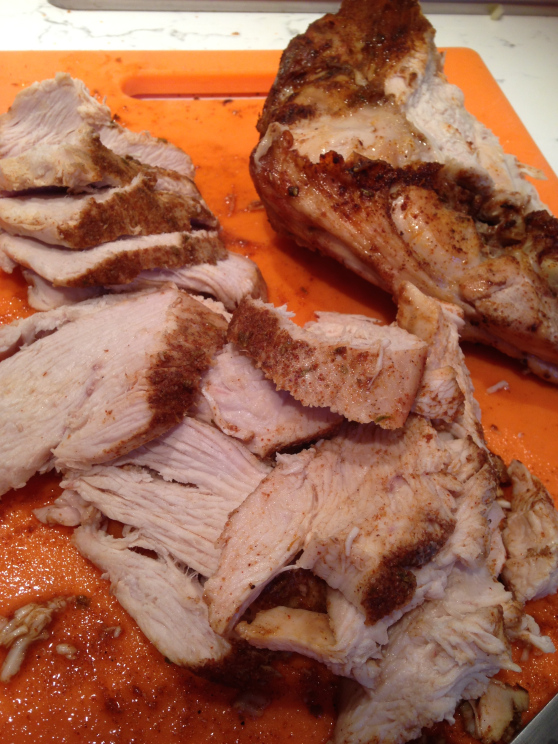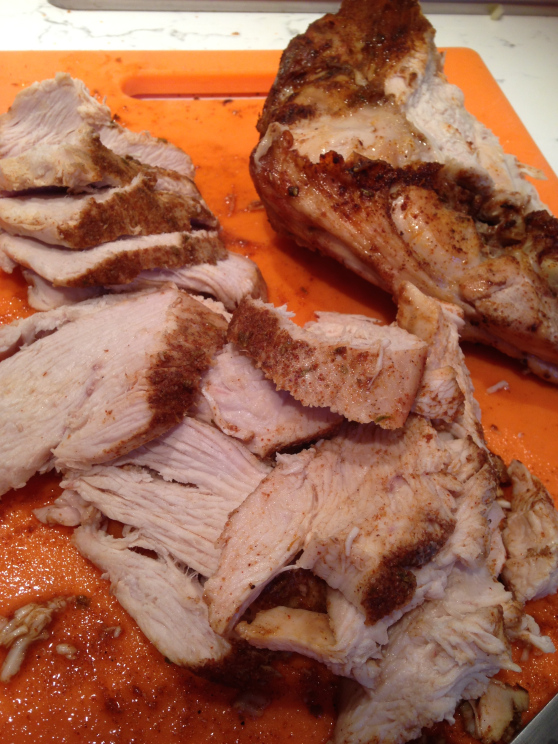 Roast Turkey Breast with Zesty Dry Rub
By Leslie Blythe Turkey Marinating, Roasting
March 19, 2017
I have cooked for clients on VERY restricted diets over the years. This Roast Turkey Breast with Zesty Dry Rub is a very healthy meal. There is a gravy recipe included, but I skipped the gravy.
Directions
1Preheat oven to 350° F.
2Coat large roasting pan with nonstick vegetable-oil cooking spray. Rub turkey on all sides with olive oil and lime juice.
Dry Rub
1Mix onion salt, chili powder, dried oregano, cumin, garlic powder, allspice and cayenne in small bowl. Rub 1 1/2 tablespoons mixture over turkey.
2Roast turkey in the oven for 1 1/2 to 2 1/2 hours or until the internal temperature registers 165° F on an instant-read thermometer. Remove turkey to a warm place; let stand 10 minutes.
Gravy
1Pour off all but 2 tablespoons drippings from roasting pan. Sprinkle flour and 1/2 teaspoon of remaining dry rub over the bottom of roasting pan; cook over medium-high heat, scraping up any browned bits from bottom of the pan, for about 1 minute. Gradually whisk in chicken broth until smooth; cook, stirring occasionally until thickened, about 2 minutes. Strain gravy through a sieve into gravy boat; keep warm.
2Cut off each 1/2 of the turkey breast from the bone. Wrap one 1/2 and refrigerate for up to 3 days or freeze for up to 4 months, for later use. Slice other 1/2 of turkey breast and serve with the gravy.
Ingredients
1 whole turkey breast on the bone (6 to 7 pounds)
2 tablespoons fresh lime juice
Dry Rub
Gravy
2 Tablespoons all-purpose flour