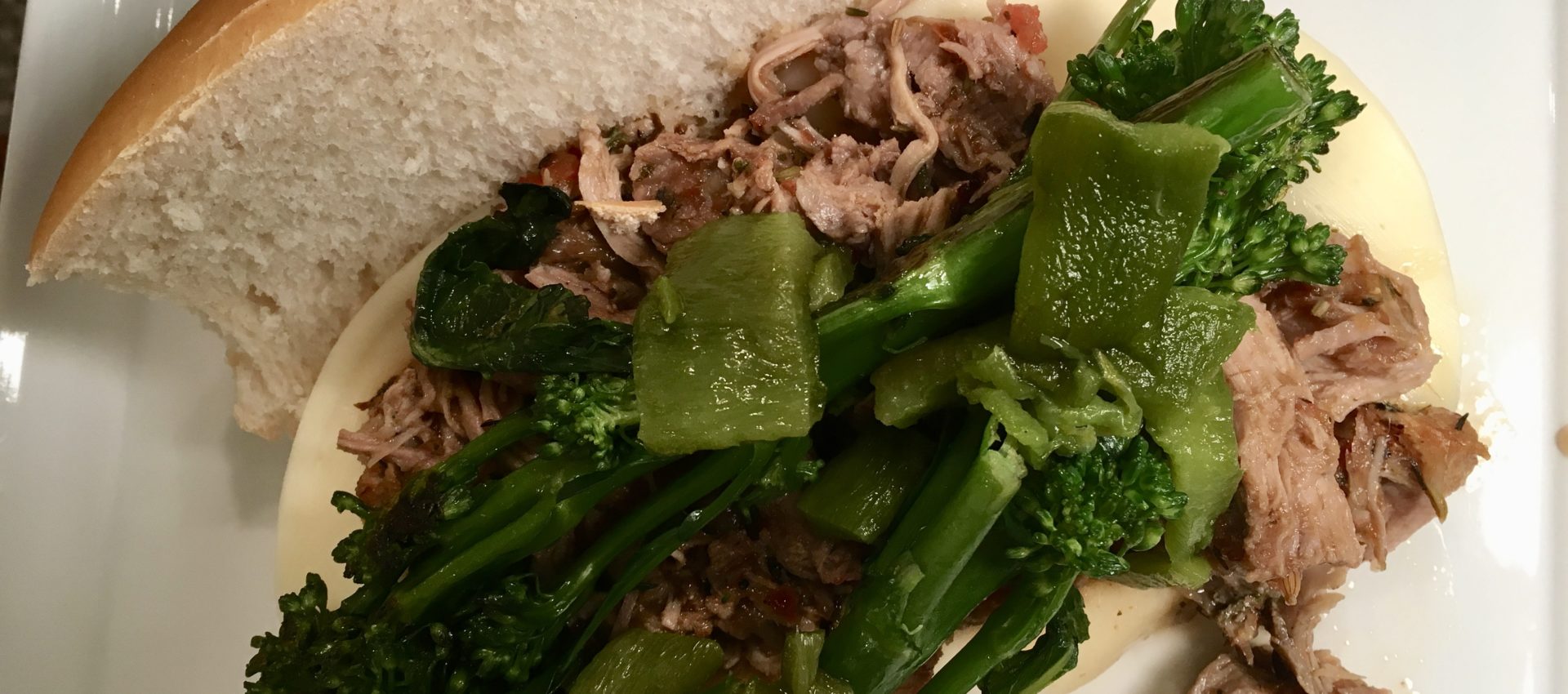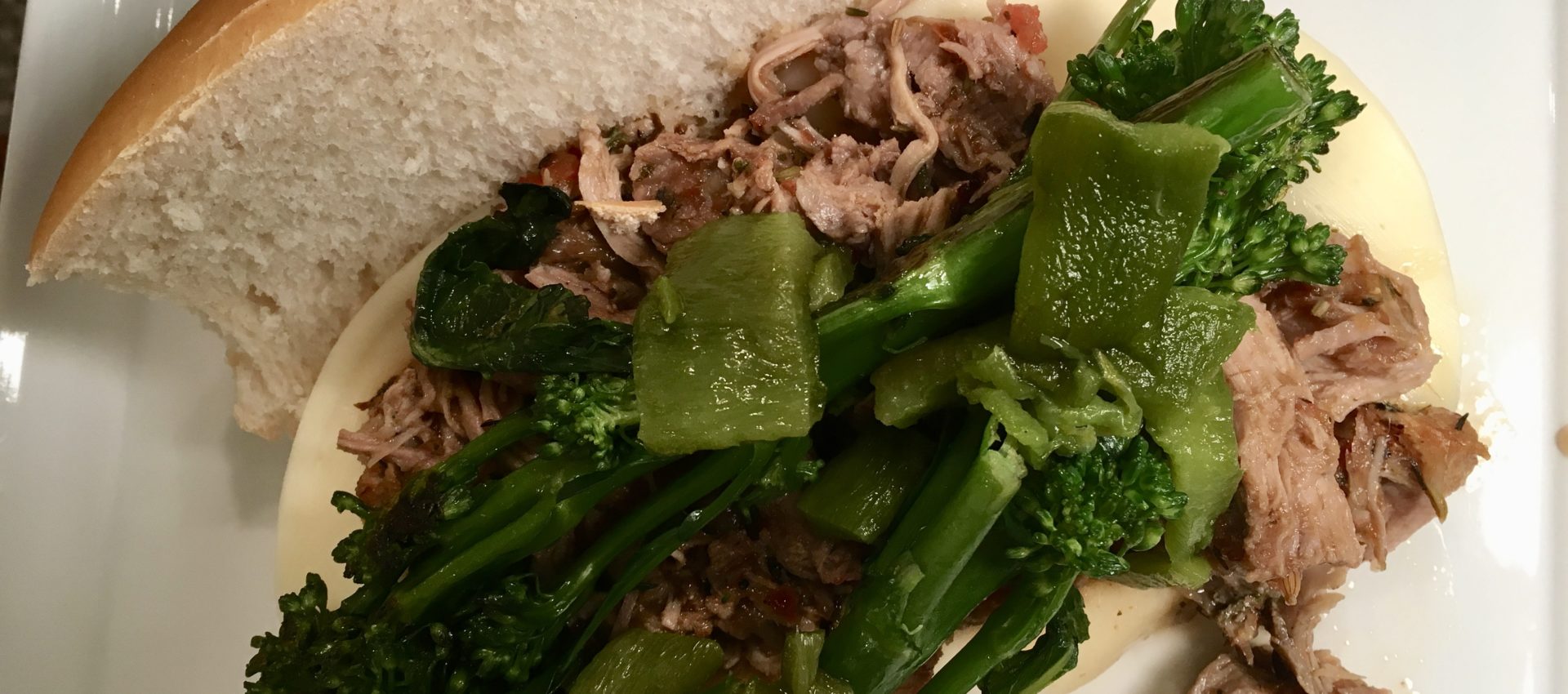 DiNic's Pulled Pork Italiano
By Leslie Blythe Italian, Pork, Sandwich puréeing, Roasting
January 23, 2017
DiNic's Pulled Pork Italiano is basically an Italian Hoagie with Pulled Pork and Broccoli Rabe. Dinic's is in The Reading Terminal in Philadelphia. It's served on an Italian roll, Italian spiced pork pulled is piled on top of sliced provolone, and then topped with broccoli rabe and roasted peppers.
Directions
1Heat oven to 450° F. Combine fennel, parsley, thyme, and 3 tsp. chili flakes in a small bowl; set aside. Open pork shoulder on a work surface, and spread with half of herb mixture, rosemary, 1⁄4 of the chopped garlic, salt, and pepper. Roll up shoulder, tie with kitchen twine at 1″ intervals to secure, and season the outside with remaining herb mixture, salt, and pepper. Transfer to a roasting pan and roast until browned, about 40 minutes. Remove pan from oven, and heat broiler. Add remaining garlic to pan, along with stock, wine, onion, and bay leaf; pour tomatoes over top and sides of pork shoulder. Broil until tomatoes are caramelized, about 20 minutes. Reduce oven temperature to 325° F, cover pork with parchment paper, and cover roasting pan with aluminum foil. Cook until internal temperature of pork reaches 165° F, about 2 hours. Set aside to cool.
2Transfer pork to cutting board, and remove bay leaf from pan. Transfer juices to a blender and purée; transfer to a 4-qt. saucepan and keep warm. Pull pork apart into large pieces and add to pan juices.
3Meanwhile, bring a large pot of salted water to a boil, and add broccoli rabe. Cook, stirring, until just tender, 2–3 minutes. Drain and transfer to a bowl of ice water to cool. Drain, and dry thoroughly with paper towels. Heat oil in a 12″ skillet. Working in batches if necessary, add remaining chili flakes and broccoli rabe and cook, stirring, until crisp and warmed through, about 4 minutes. Set aside.
4Place 4 slices provolone on the bottom half of each roll, and top with pork. Add broccoli rabe and peppers.
Ingredients
3 Tablespoons ground fennel seeds
3½ crushed red chili flakes, plus more
1 (6-7 pounds) pork shoulder, butterflied
3 sprigs rosemary, stemmed and finely chopped
Kosher salt and freshly ground black pepper, to taste
1 medium yellow onion, thinly sliced
8 (12″) crusty Italian rolls, split
0 Reviews