Honey Lime & Sriracha Shrimp
Posted on September 6, 2017 by Leslie Blythe No comments
And my tour of the Sriracha Factory!
I made an appointment and brought my husband with me. It turns out we were the only 2 people on the tour. After watching some videos in the reception room, we were whisked away on a red tram to tour the facility, which by the way is 650,000 square feet! The factory is very clean and efficient. Everything is manufactured in this plant, even the plastic bottles and blue barrels. Check out their website and if you are in the area, schedule a tour.
Once I got home I made this Honey Lime & Sriracha 🍤 🔥 🌶! Very spicy! I ❤️  it hot! See the recipe below ⬇️.
I was given samples of these 3 products:
CHILI GARLIC
A thick, chunky style hot sauce with a hint of garlic flavor.
SRIRACHA
The most popular sauce. Created from sun ripened chilies into a smooth paste we have captured its flavor in a convenient squeeze bottle that is easy to use.
SAMBAL OELEK
A full bodied sauce with the pure taste of chilies. No other flavors have been added for those who prefer a simpler taste.
A few facts….
The pronunciation:   See-rotch-ah
Sriracha is the type of sauce; Huy Fong is the brand name.
The brand name comes from the ship that carried Huy Fong's founder to the US.
Here are a few ways to use sriracha sauce:
Straight
Sriracha's original use was as a dipping sauce. Squeeze some into a small bowl or squirt it straight from the bottle onto your favorite foods.
Sauces
Sriracha's spicy, tangy flavor pairs wonderfully with creamy dips and sauces. Mix some Sriracha into sour cream, mayonnaise, or cream cheese based dips for a little kick.
Soups/Stews
Sriracha is often served with pho in Vietnamese restaurants but you can also try adding it to ramen, tomato soup, or gazpacho. Cream based soups, like chowders, also benefit from Sriracha's kick.
Meats/Marinades
Add Sriracha to teriyaki flavored marinades, BBQ sauces, meatballs, meat loaf, or chicken wings. Sriracha and meat were made for each other.
Eggs/Cheese
Anything creamy, including cheese and egg yolks, balances perfectly with the spicy, tangy flavor of Sriracha. Add Sriracha to macaroni and cheese, cheese dips, cheese balls, or scrambled, fried, or deviled eggs.
Drinks
Sriracha sauce adds a new twist to Bloody Marys or to regular tomato or vegetable juice.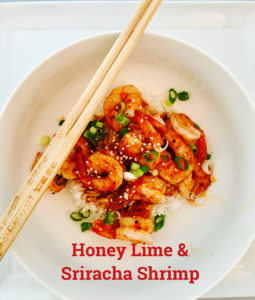 Honey Lime & Sriracha Shrimp
4 Servings
1 pound shrimp, peeled and deveined, with tail on
salt and pepper, to taste
Sauce
juice of 1 lime
2 tablespoons honey
2 tablespoons soy sauce
2 tablespoons Sriracha sauce
Garnish
3 green onions, sliced for garnish
½ tablespoons sesame seeds
rice, for serving
Preheat oven to 400°F.
Lightly oil a baking sheet or coat with nonstick spray.
Rinse and pat shrimp dry; season with salt and pepper. Place shrimp in a single layer onto the prepared baking sheet.
Place into oven and roast just until pink, firm and cooked through, about 6-8 minutes.
While the shrimp are roasting, mix together lime juice, honey, soy sauce, Sriracha sauce and garlic in a small saucepan, turn the heat up to medium high and reduce to obtain a thick, glossy sauce. Stir the roasted shrimp in the sauce and serve over rice.
Top with green onions and sesame seeds.