The Orange Grove Cocktail
Posted on March 5, 2015 by Leslie Blythe 1 comment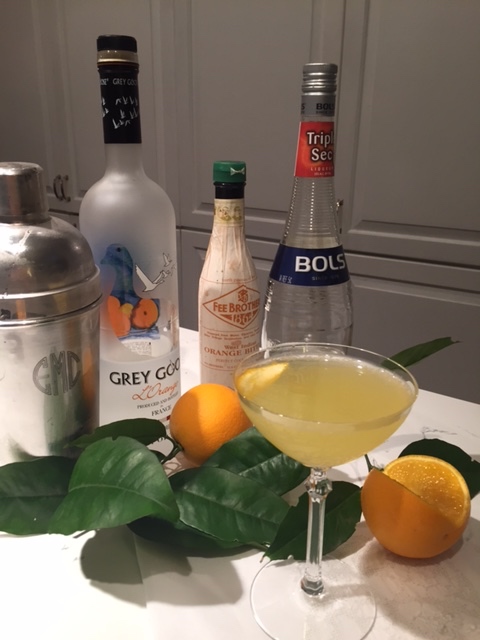 To see my home in Pasadena;
Home where grass is greener
Where honeybees
Hum melodies
And orange trees scent the breeze.
                                –Al Jolson
Pasadena, California, is home to the Rose Parade, the California Institute of Technology, Julia Child (yes, really) and—at one time—groves of orange trees.  The groves are long gone, but they gave their name to one of the beautiful streets in the city, once lined with mansions, some of which still exist.  The jewel in the crown is the 1908 Gamble House, an outstanding example of American Arts and Crafts style architecture designed by Greene & Greene as a winter home for the members of the Gamble family of the Procter & Gamble Company.
Specially created by my husband Eric for a fundraising event held on the terrace of this beautiful house, the Orange Grove Cocktail is all about oranges—dry enough to be classified as a citrus Martini, this is a refreshing cocktail that evokes the bygone era when orange trees really did scent the breeze.  The Gambles, who were teetotalers, would probably not approve but everyone I have served this to has asked for a second one.  Or two.   It kind of makes one homesick for Pasadena, even if you have never been there.  As the Al Jolson song goes, it is where I'll settle down, beneath the palms, in someone's arms, in Pasadena town. …..
The Orange Grove Cocktail
Ketel One Vodka 5/10
Triple Sec 3/10
Fresh Orange Juice 2/10
Orange Bitters
Shake in cocktail shaker, strain into a cocktail glass garnished with a twist of orange peel.