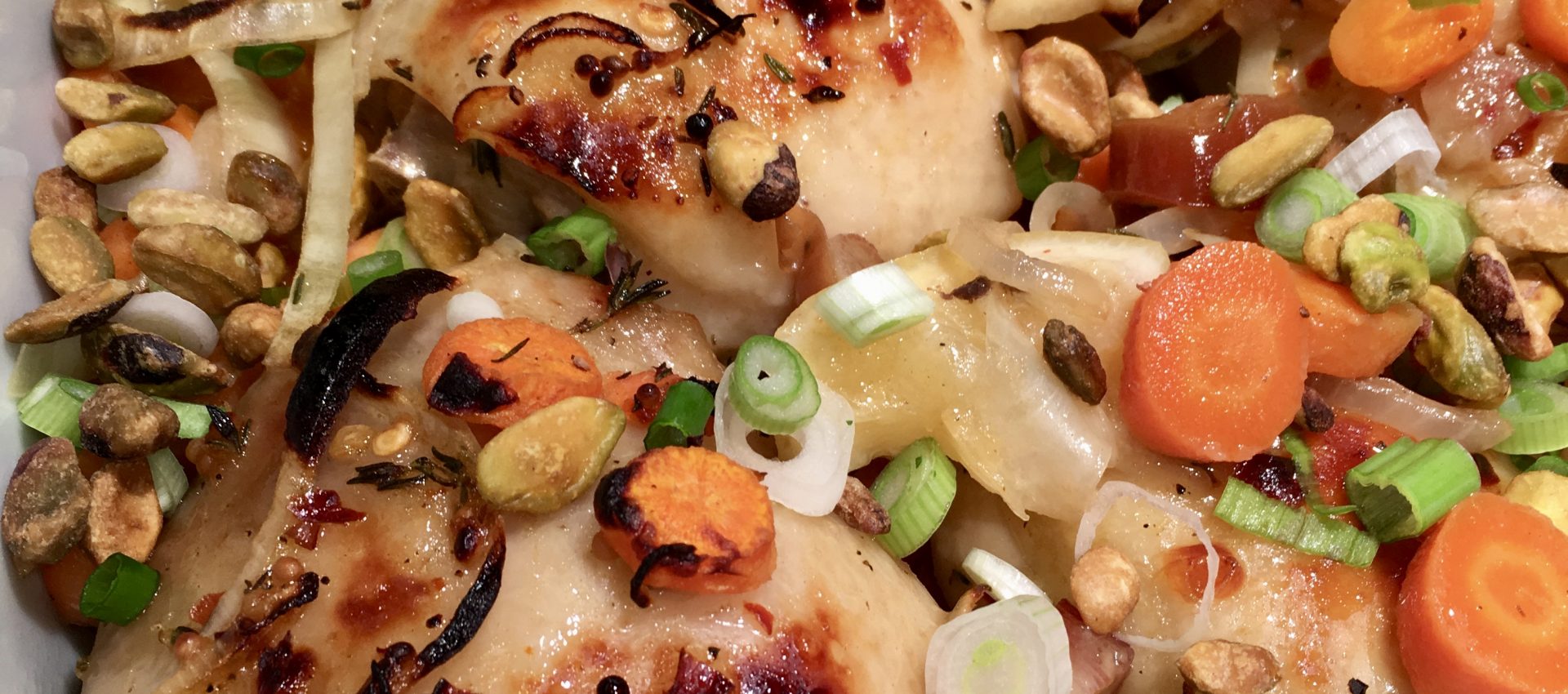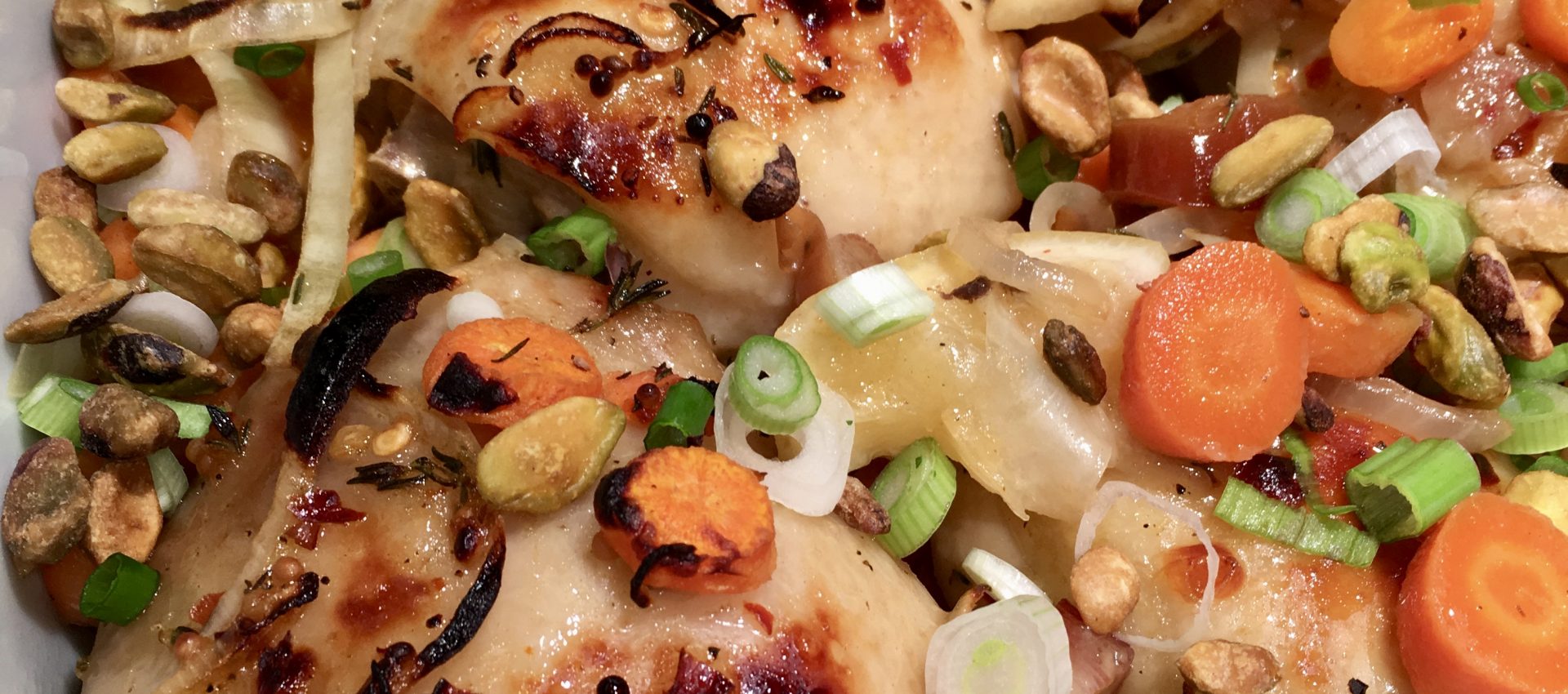 Sweet and Spicy Roast Chicken
By Leslie Blythe Chicken Blanching, Marinating, Roasting
November 21, 2017
This Sweet and Spicy Roast Chicken has a chile-flecked, honey-imbued marinade spiked with fresh citrus juice gives this chicken its fiery, syrupy character. Dates and carrots give the sauce texture and additional sweetness while a garnish of fresh herbs and pistachio nuts lends freshness and crunch. The ingredients can be assembled up to 24 hours in advance, then all you need to do is pop it in the oven just before your guests arrive, and garnish it at the last minute. Serve it with couscous, polenta, rice or another soft grain to soak up the sauce.
Prep: 15 mins
Cook: 40 mins
Yields: 4 - 6 Servings
Directions
1Quarter the lemon lengthwise, removing any seeds. Thinly slice crosswise into small wedges and add to small pot of boiling, salted water. Blanch for 2 minutes and drain. Reserve slices.
2In a saucepan, whisk together lemon juice, orange juice, oil, mustard, honey, salt, bay leaf, red pepper flakes and black pepper to taste. Bring to a boil and simmer for 5 minutes. Let cool.
3Put chicken in a bowl and add honey mixture. Add carrots, onion, dates, thyme and blanched lemon slices. Turn mixture several times to coat. Let marinate for at least 30 minutes at room temperature, but preferably overnight in the refrigerator.
4Heat oven to 425° F. Transfer all ingredients, including marinade, to a sheet pan with a rim. Chicken should be skin side up. Roast until chicken is browned and cooked through, about 20 to 30 minutes for breasts and 30 to 40 for legs and wings (remove the pieces as they are done cooking). When the chicken is done, give the carrot mixture in the pan a stir; if the pan looks dry add 2 to 3 tablespoons water. Continue roasting the carrots until they are tender, about 7 to 12 minutes longer.
5Spoon carrots over chicken and top with cilantro, scallions and pistachio nuts.
Recipe by Melissa Clark, The New York Times
Ingredients
1 lemon, plus 3 tablespoons freshly squeezed lemon juice
2½ teaspoons kosher salt, more for pot
3 tablespoons freshly squeezed orange juice
1½ tablespoons whole grain mustard
½ to 1 teaspoon crushed red pepper flakes, to taste
1 4-pound chicken, cut into 8 pieces
3 cups sliced carrots, ¼-inch thick
1 onion, halved and thinly sliced
1 tablespoon fresh thyme leaves
¼ cup chopped cilantro or parsley, for garnish
2 scallions, thinly sliced, for garnish
0 Reviews