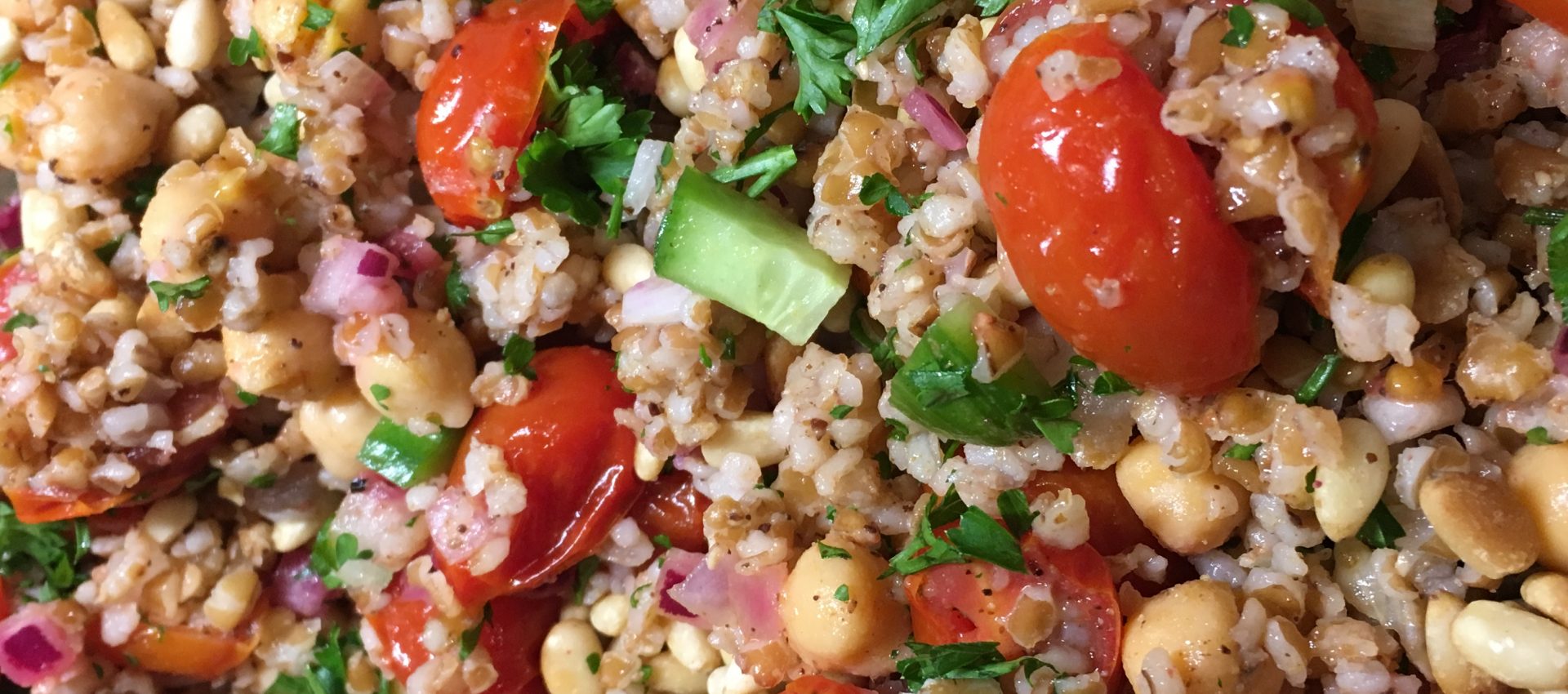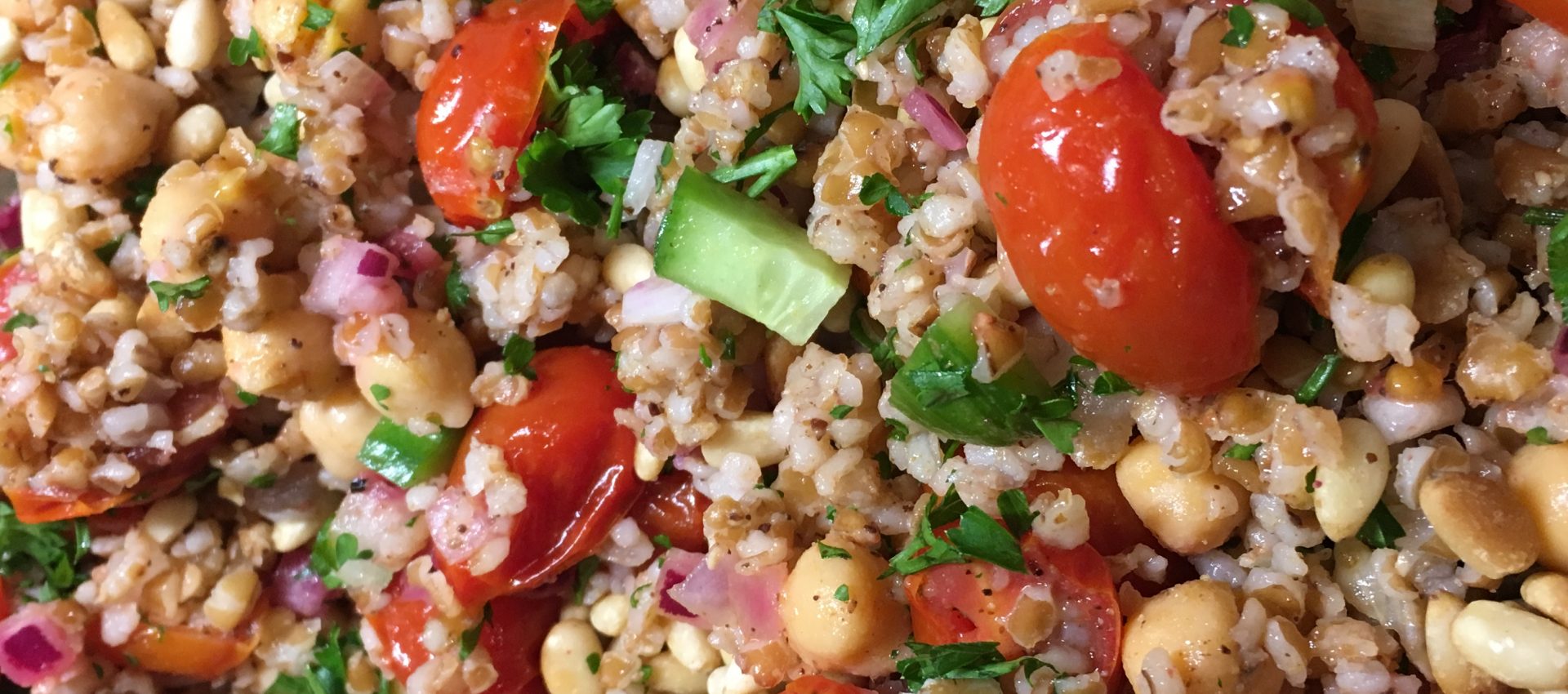 Middle Eastern Roasted Tomatoes and Chickpeas with Bulgur
By Leslie Blythe Gluten Free, Grains, Nuts, Side dish, Vegan, Vegetarian Boiling, Roasting
November 20, 2017
I love bulgur, which is a staple of Middle Eastern cuisine, traditionally used to make tabbouleh and pilafs. It has a satisfying, chewy texture and mild, nutty taste. Whole wheats, like bulgur, are richer in nutrients and vitamins than refined, processed wheat, which has been stripped of many beneficial ingredients. You can use bulgar in place of wheat berries, couscous or rice in your favorite grain salad recipes. This Middle Eastern Roasted Tomatoes and Chickpeas with Bulgur is a great way to give it a try!
Prep: 15 mins
Cook: 20 mins
Yields: 4 Servings
Directions
1Preheat oven to 375°F and line a baking sheet with parchment paper.
2In a large bowl, add the tomatoes and toss together with the olive oil and sumac. Arrange on half of the prepared baking sheet, cut side facing up, in a single layer.
3In a second bowl, add the chickpeas, olive oil and cumin; toss to combine. Season with salt and pepper. Arrange on the other half of the prepared baking sheet in a single layer.
4Roast in the preheated oven for 20 minutes or until soft and the tomatoes start to burst a little.
5Meanwhile, toast the pine nuts and prepare the bulgur (according to package instructions).
6Cook in a 2:1 ratio water to bulgur. Bring it to a boil. Cover, reduce heat, and simmer for 10 minutes or until tender. Drain, if necessary. Cover and set aside.
7Transfer the cooked bulgur to a serving bowl. Add the roasted tomatoes and chickpeas. Gently toss to combine. Add the cucumber, red onion, fresh herbs and lemon juice. Season with salt and pepper to taste, and again toss gently. Garnish with the pine nuts. Serve warm or at room temperature.
8Add a little extra drizzle of olive oil, if desired.
Recipe adapted from Whole Food Republic by Elle, July 21, 2017
Ingredients
For tomatoes
1 pound mini Roma tomatoes or cherry tomatoes, halved (a mix of varieties is best)
2 tablespoon extra-virgin olive oil
2 teaspoons sumac (found at Turkish, Greek and Mediterranean markets)
For the chickpeas
1 x 15 ounce can chickpeas, drained and rinsed
1 tablespoon extra-virgin olive oil
sea salt and freshly ground pepper, to taste
To assemble the salad
1 small red onion, finely diced
small bunch fresh cilantro, chopped (alternatively use flat-leaf parsley)
juice from half a medium lemon
0 Reviews