Poutine
Posted on April 3, 2016 by Leslie Blythe No comments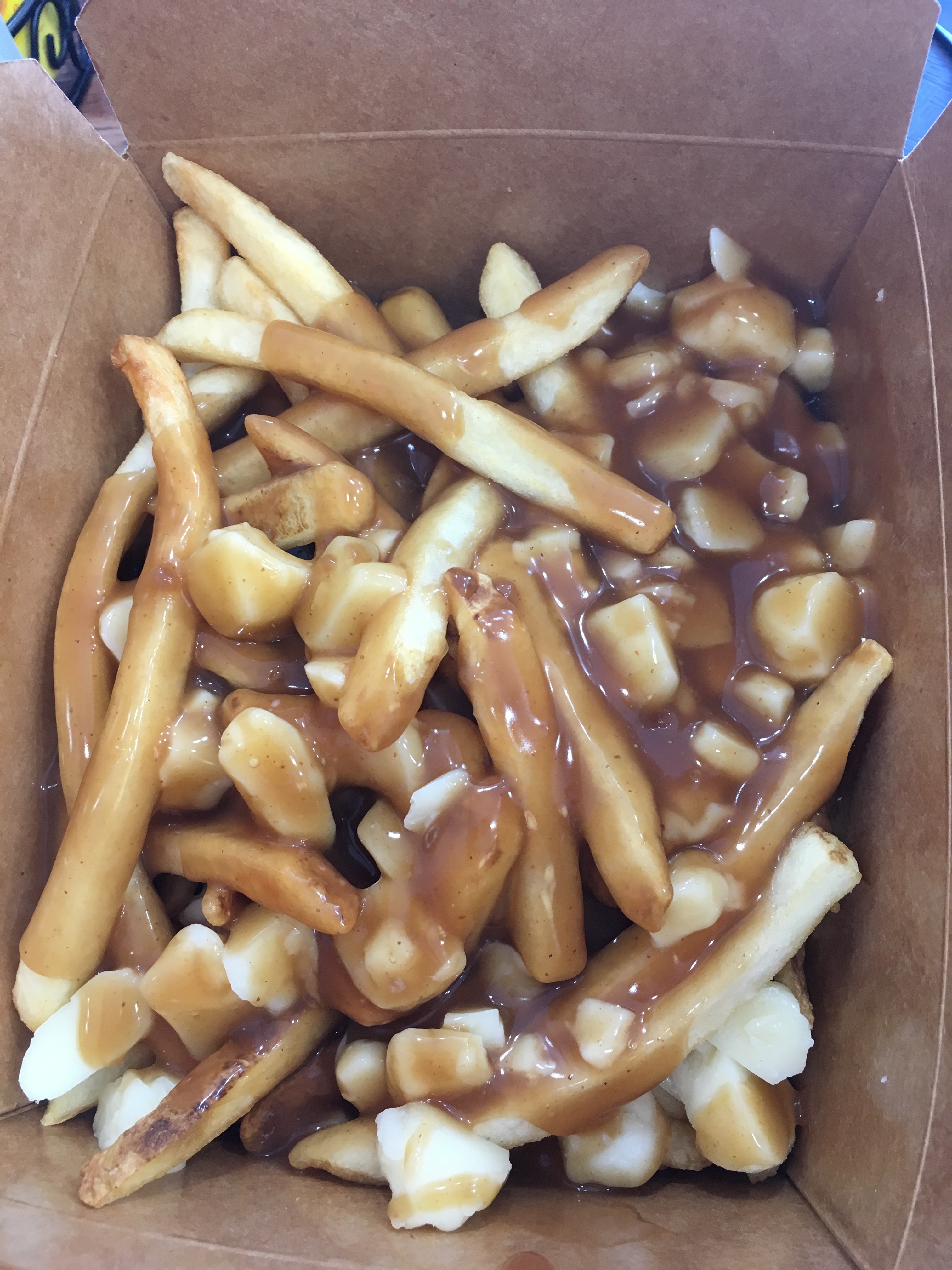 Poutine is the ultimate French-Canadian junk food. It originally came from Quebec. Jean-Paul Roy claims to be the inventor of Poutine in 1964; and so does Restaurateur Ferdinand Lachance in 1955 – kind of like the French Dip dilemma.
It is a dish consisting of French fries topped with fresh "Cheese curds", covered with brown "Gravy". The subject of the gravy is widely debated-some say it should be beef, others declare chicken gravy is the only way to go. The dish is found all across Canada and sold in diners, pubs and chip wagons, as well as international fast food chains (like McDonald's, KFC, Burger King, etc).
The main problem with trying to make it at home, is finding the cheese curds. I found them at Whole Foods, I then went to Trader Joe's and saw that they have it too!
Fresh curds squeak against the teeth when bitten into, which some would say is their defining characteristic.
The French fries are of medium thickness, and fried so that the insides are still soft, with an outer crust. Fresh cheese curd (not more than a day old) is used. To prepare, first place the hot fries into a bowl or large plate, then spread the cheese curd on top. The cheese curd should be at room temperature. Then pour piping hot gravy over the cheese curds and fries.
Poutine
Makes 4 cups
5 large Yukon gold potatoes, peeled and cut into strips
¼ cup of cheese curds
Gravy
2 Tablespoons cornstarch
2 Tablespoons water
6 Tablespoons unsalted butter
¼ cup unbleached all-purpose flour
2 cloves garlic, finely chopped
2 cans 10 ounces beef broth, undiluted
1 can 10 ounces chicken broth, undiluted
Pepper
Gravy
In a small bowl, dissolve the cornstarch in the water. Set aside.
n a saucepan, melt the butter. Add the flour and cook for about 5 minutes, stirring until the mixture turns golden brown. Add the garlic and cook for about 30 seconds.
Add the broth and bring to a boil, stirring with a whisk. Stir in the cornstarch and simmer for 3 to 5 minutes or until the sauce thickens. Season with pepper.
Fries
Store cut fries in cold water for an hour up to 24 hrs to achieve very crispy fries. Drain water and pat dry fries, deep fry them at 250F for 3-4 minutes and remove onto paper towel to absorb excess oil. After they are rested for 5-10 minutes, deep fry at 330F until golden brown.
To plate poutine place hot fries in a shallow bowl, top with the cheese curds followed by a generous pour of thick gravy.