Wise Men Cocktail
Posted on December 3, 2014 by Leslie Blythe 2 comments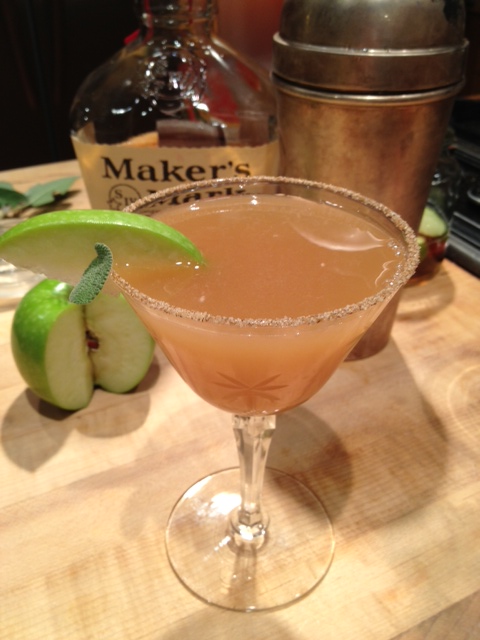 My passion is cooking–I like a cocktail as much as the next gal, but I live in the kitchen, not behind the bar.  For years, I have relied upon my husband–a mixologist par excellence–to ghostwrite my blogs about cocktails.  Well, now he can step into the light and you can meet my longest-standing guest blogger, my husband Eric.  An allrounder, he can make a mean beurre blanc, but he comes into his own with a shaker in his hand…….
Wise Men Cocktail
For most, the Christmas season starts too early; by the time the day itself arrives, we are ready to clear out the clutter, spend our gift money on bargains and make resolutions to go to the gym.  The reality is that Christmas starts with Christmas and lasts for twelve days, at which point the Epiphany season begins. The term epiphany means "to show" or "to make known" or even "to reveal." In the Christian tradition, it remembers the coming of the wise men bringing gifts to visit the Christ child. The wise old man (also called senex, sage or sophos) is an archetype as described by Carl Jung, as well as a classic literary figure.
So, as we let our belts out a notch, head for the slopes, or just settle into our holiday rut, let's focus for one brief moment on some holiday wisdom—or sagacity.  To celebrate the season, here is a cocktail that focuses on the herb sage, or Salvia officinalis which is the  perennial, evergreen plant that we use to season dressing, stuffing, pumpkin ravioli—and now, a cocktail!
Simply take an air-tight jar, fill it with Bourbon (I use Maker's Mark) and add several fresh apple slices and a sprig of fresh sage.  Let this sit overnight or even for a few days but not much longer as the sage can grow bitter if left in too long.  Apple cider further extends the apple flavor and a rim of celery salt cuts through the sweetness and makes this drink—basically a Manhattan with cider instead of red vermouth—an off-sweet, celebration of seasonal flavors.  The wisdom, we hope, will follow.  I can't vouch, however, for gold, Frankincense and Myrrh………
[amd-zlrecipe-recipe:358]