Corner Bakery $50 Gift Card Giveaway!
Posted on June 25, 2014 by Leslie Blythe 4 comments
The Corner Bakery invited me to a media and food bloggers event to unveil several of their new menu items.
This summer, Southern California guests can satisfy their cravings with new menu items, including Buttermilk Pancakes with Berries and the Spicy Asian Pork Hot Toasted Sandwich, beginning July 1.
Light and fluffy, the made-to-order Buttermilk Pancakes with Berries are topped with the season's freshest strawberries and blueberries. The new breakfast item comes with four pancakes and is served with three slices of applewood smoked bacon and Corner Bakery Cafe's own vanilla maple syrup.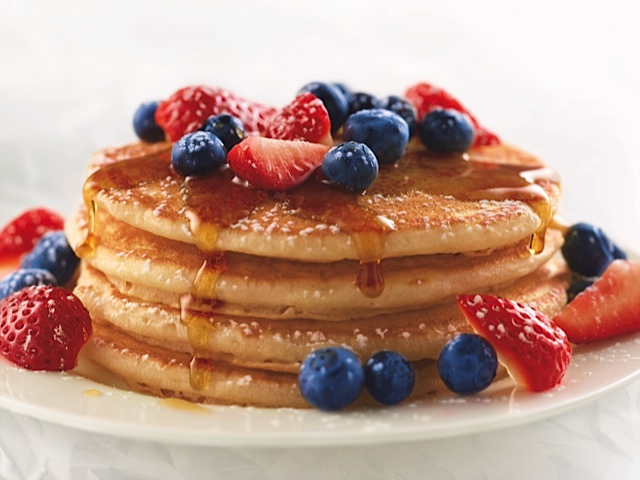 This was probably one of the best sandwiches I have had in a long time.  It was the perfect sweet / spiciness ratio.  It's the Spicy Asian Pork Hot Toasted Sandwich. The sandwich features shredded roasted pork sautéed in a spicy Asian barbecue sauce and fresh produce, including made-in-house pickled jalapeños, cucumbers, spicy slaw and cilantro, on a toasted French roll.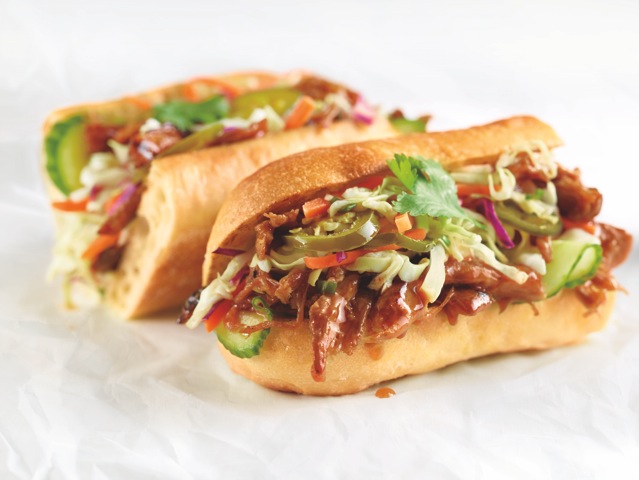 Spicy Asian Pork Sandwich
1-1½ lb pulled pork (can substitute beef brisket, turkey or chicken)
16 oz Asian barbecue sauce (8 oz barbecue sauce blended with 8 oz ginger soy dressing)
2-3 cup Sweet & Spicy Slaw (recipe to follow)
12 slices English cucumber, thinly sliced on a bias
Fresh jalapeño, sliced very thin (or pickled jalapeño slices)
Cilantro (8-12 sprigs)
4 each French sandwich rolls
Butter, softened
Hinge the bread and lightly butter the inside; place on a griddle and toast to a golden brown.
Heat the pulled pork on the griddle or in a sauté pan; add half the barbecue sauce and simmer 3-5 minutes.
Place the rolls on a tray and arrange three cucumber slices on each.
Top with the hot pork and Sweet & Spicy Slaw.
Arrange sliced jalapeños and cilantro sprigs on top of each sandwich.
Use remaining barbecue sauce for dipping
Sweet & Spicy Slaw
Slaw
8 oz shredded cabbage or slaw mix
3 oz shredded carrots
1 Tbs green onions, sliced thin
Dressing
2 oz rice wine vinegar
1½ tsp Sriracha hot sauce
2 oz sugar
¼ tsp salt
Mix all dressing ingredients together and toss over vegetables; let stand 20 minutes.
Here is a really refreshing way to make oatmeal in the summer. It is Cold Berry Almond Swiss Oatmeal. Served chilled, this seasonal oatmeal features low fat vanilla yogurt, rolled oats, skim milk, green apples, bananas, currants and dried cranberries, topped with toasted almonds and fresh seasonal berries.

Chilled Berry Almond Swiss Oatmeal
6 oz old fashioned rolled oats
¼ cup dried cranberries
¼ cup currants (can substitute raisins or golden raisins)
1 Tbs sugar (or to taste based on sweetness of yogurt)
2 cup low fat vanilla yogurt
1½ cup skim milk
Granny Smith apple (medium sized; can substitute other variety)
Banana (medium sized)
Mix oats, cranberries, currants and sugar in a large bowl.
Add yogurt and skim milk; mix well and let sit 15 minutes.
Dice the apple and banana; add to oats mixture and allow to sit another 15-30 minutes.
Top with fresh strawberries, blueberries and toasted almonds. Serve chilled.
Corner Bakery has more than 150 locations across the U.S., the Corner Bakery Café uses local seasonal produce, so the menu varies by region.
For more information or to locate the nearest Corner Bakery Cafe, visit  www.cornerbakerycafe.com.
Corner Bakery $50 Gift Card Giveaway!
The giveaway is open from June 25th through June 30th.  I'm using Rafflecopter to manage entries and randomly select the winner.  Open to US addresses only, please.  Make sure there's a Corner Bakery near you… www.cornerbakerycafe.com
Must be 18 or older to enter.  Winner has 24 hours to respond or a new winner is chosen, prize cannot be transferred.
Good luck!